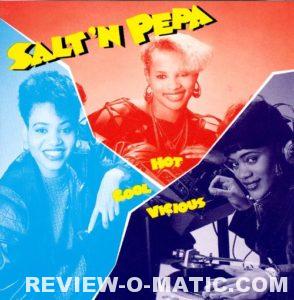 It's hard to believe that Salt-N-Pepa's debut album Hot, Cool & Vicious turns thirty years old this month. While kids today may only know Salt-N-Pepa from their recent Geico Commercial, both Salt-N-Pepa and Hot, Cool & Vicious were considered groundbreaking back in 1986.
In the mid 1980s, rap and hip hop escape from coastal clubs and found a more mainstream audience, thanks in part to the breakdancing fad. While acts like Run DMC and LL Cool J found success within the genre, it was the Beastie Boys who released the first Billboard number one rap album, Licensed to Ill, in November of 1986. Salt-N-Pepa's Hot, Cool & Vicious was released the following month.
MC duties are split evenly between Cheryl "Salt" James and Sandy "Pepa" Denton. Hurby "Luv Bug" Azor not only produced all nine tracks, but is credited as the band's sole musician and lyricist. (Deidra "Spinderella" Roper did not join the band until after the album was recorded.) As was the style at the time, every track features samples, some more obvious than others. Some, like The Meter's "Handclapping Song" (on "Beauty and the Beat") and a drum sample from Aerosmith's "Walk This Way" (on "I Desire") are instantly recognizable, while I wouldn't learn the source of others ("Flash Light" by Parliament on "I'll Take Your Man" and Grover Washington, Jr.'s "Mister Magic" on "My Mic Sounds Nice") for years to come.
Although it comes late in the album's track list, Hot, Cool & Vicious got its start with "The Show Stoppa," a track Salt-N-Pepa recorded in response to Doug E. Fresh and Slick Rick's "The Show." The track references both that song and "La Di Da Di" while squeezing in samples from both Johann Sebastian Bach and the Revenge of the Nerds. Based on "The Show Stoppa" airplay, Azor put together an album's worth of material. While "Tramp" found limited early success, it was the dance remix of "Push It" that eventually propelled the girls into stardom, and Hot, Cool & Vicious became the first rap album by an all female act to go gold (and eventually platinum).
Lyrically the band doesn't break much ground here. In most of the tracks, the girls explain how they are hot, and other girls are not. Compared to modern hip hop the tracks have limited subject matter, but considering the time frame, they aren't dissimilar from their contemporaries. Salt-N-Pepa would expand their scope on following albums.
"Push It" remains the album's stand out track, a thirty-year-old dance track that still gets airplay today. "Chick on the Side," "It's Alright," and "Show Stoppa" still sound fresh, while tracks like "Beauty and the Beat" and "My Mic Sounds Nice" don't have enough meat on the bone to keep them in regular rotation.
Not only did Hot, Cool & Vicious launch the career of Salt-N-Pepa, but it showed fans of rap (and perhaps more importantly, industry executives) that female MCs could hold their own. Following the group's success, Queen Latifah, MC Lyte, Roxanne Shante and Sister Souljah all saw play on radio stations and MTV.
Hot, Cool & Vicious was re-released in 1988, along with the group's second album (A Salt with a Deadly Pepa). That same year, the track "Let the Rhythm Run" appeared on the Colors soundtrack (along with Roxanne Shante's "Go On Girl"). From there, the rest is history.
01. "Push It" (Remix)
02. "Beauty and the Beat"
03. "Tramp"
04. "I'll Take Your Man"
05. "It's Alright"
06. "Chick on the Side" (Remix)
07. "I Desire"
08. "The Show Stoppa (Is Stupid Fresh)"
09. "My Mic Sound Nice"