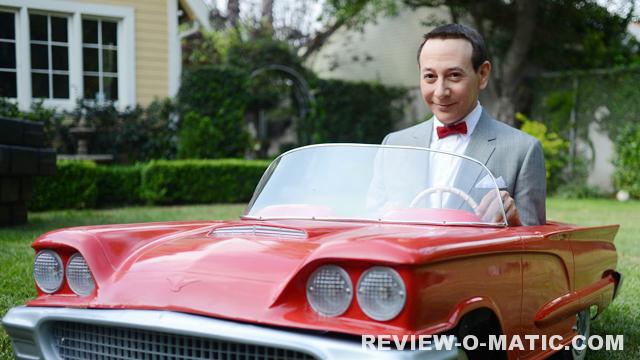 I was twelve years old when Pee-wee's Big Adventure was released in 1985. Although Paul Reubens had been performing his man-child character for a few years by that time, it was that movie — a boy in search of his stolen bike — that launched Pee-wee Herman into the public eye. There was a sequel in 1988, Big Top Pee-wee, along with Pee-wee's Playhouse, a popular Saturday morning children's show that ran from 1986-1990.
Everything changed in the summer of 1991 when Reubens was arrested for indecent exposure in an adult movie theater. In an era where celebutants and reality television starlets frequently share nude selfies through social media sites and "leak" their own sex tapes, it seems inconceivable that such an incident would be a career ender… but it was. For almost 25 years, save for a few minor cameo appearances here and there, Pee-wee Herman disappeared.
And now, twenty-five years later, he's back.
Neither of Pee-wee's previous films were particularly known for their deep plots, and his new film, Pee-wee's Big Holiday (released March 18 on Netflix) doesn't stray far from the formula. In the beginning of the film, we find Pee-wee living in Fairville, a quaint town with a 50s feel. Finding himself stuck in a rut, a chance encounter with an out-of-town stranger (Joe Manganiello, as himself) leads Pee-wee to leave his small community and travel across the country to attend Joe's birthday party in New York City.
If the plot similarities between The Force Awakens and the original Star Wars drove you crazy, you'll certainly enjoy pointing out the parallels between this and 1985's Big Adventure. Like that film, Pee-wee's Big Holiday starts with a dream sequence, features (a much less elaborate) Rube Goldberg contraption, and has Pee-wee traveling across the country, making friends and having random mini-adventures along the way. Along the way he meets a fellow selling gimmicks and knick-knacks (just like Mario the Magician), ends up in a car with some criminals (just like Mickey), catching a ride across country (first in an RV and later in a flying car, instead of a box car), and even facing his fear of snakes (again). They even used the same gimmick of Pee-wee escaping a foe by using one of his trick items (swap out his trick gum for a disguise kit). As much as I did not want to, I found it impossible to not compare the two films, which follow one another almost beat for beat.
The difference is, Pee-wee's Big Holiday lacks a villain like the original's Francis. There's no love interest like Dottie here, either. Without them, Holiday quite literally becomes a series of skits with the excuse to get Pee-wee from "here" to "there." And in case you get lost, occasionally he stops and explains that to the audience, which is kind of ridiculous seeing as how that is literally the only thing happening in the movie.
Also missing from this film are any memorable laugh out loud moments and catch phrases. It's been 31 years now, and I'll bet you every day tour guides working at the Alamo get asked if there's a basement there. Who from my generation doesn't think of Pee-wee dancing on a bar when they hear the song "Tequila" playing? Who doesn't remember the story of "Large Marge?" And who hasn't uttered either "I know you are, but what am I?" or "I meant to do that" while imitating Herman's voice?
In this movie there are none of those moments, save for Pee-wee's new catch phrase, "let me let you let me go" — not nearly as catchy as, "What? WHAT? HA-HA."
Mark Mothersbaugh (Devo) does a good job on the soundtrack of capturing the whimsical feel of Pee-wee's world, and although the facial make-up on Reubens 63-year-old face is a bit thick at times, there are times when you would swear this was filmed back in the 80s.
Today, thirty years after it was released, I could sit down and watch Pee-wee's Big Adventure. I'm not sure that the same will be said thirty years from now about Pee-wee's Big Holiday. I truly love the character of Pee-wee Herman, and I hope that the success of this film relaunches his career and brings us even more of Pee-wee's adventures. I just hope the next one isn't one I've already seen.